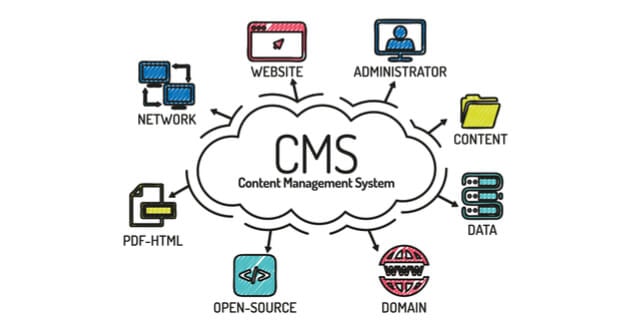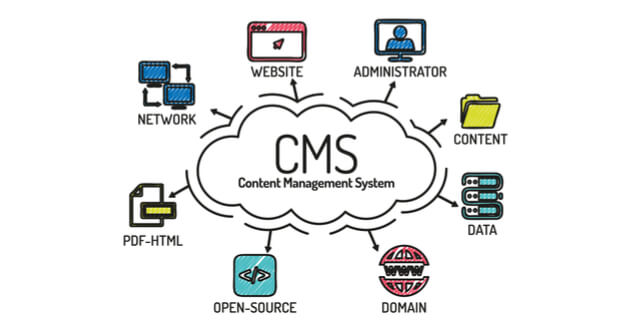 Back in the early days of the World Wide Web, websites were hardcoded. Businesses had static, 'brochure' type websites written entirely in Hypertext Markup Language (HTML) and only updated them once or twice a year – if at all. In those days, there was no interface to facilitate the editing of the website in real-time, all you had was HTML code and later CSS – so to make changes to the website, businesses either had to hire a web developer or learn how to code it themselves.
Thankfully, website design has come a considerable way since then and many of these challenges are no longer a problem thanks to Content Management Systems (CMS) which enable anyone to create and edit a website without any technical expertise. But while there are a number of them available, one CMS has risen to pre-eminence over the last decade: WordPress.
As of January 2018, WordPress is used by more than 29.6% of the top 10 million websites and it is – by a considerable margin – the market leader. WordPress' share of the global CMS market is 60.1%, it is the most popular CMS in the world, and its closest competitors: Joomla and Drupal are used by only 3.1% and 2.2% of the top 10 million websites respectively.
WordPress' growth and dominance show no signs of slowing down – and the fact that it is free and open-source also makes it an attractive option for many businesses looking to build or manage their website. It has evolved significantly since its conception in 2003 – that much is clear – it now has thousands of templates, plugins, integrations and other features which make it a great option for businesses looking to build a simple, straightforward website.
But the thing is, times are changing - and WordPress is not inherently designed for marketing and sales activity. For any business selling products or services, your website is no longer a static brochure with content on it but the centrepiece of all your business' marketing and sales activity. Your website is the top of your business' sales funnel; it is your best marketer and your best salesperson; it is the first point at which interested parties arrive to find out more about your business; and it is your best way to engage with your prospects.
If you use your website to market and sell products, you will want it to be integrated with your marketing and sales activity, connected to your CRM, optimised for search, equipped with detailed analytics, designed to scale, and capable of attracting, converting and closing customers. Out of the box, WordPress requires a lot of plugins (third-party additional tools) to enable the website to attract, convert and close customers online.
When it comes to any decision around choosing the right CMS for your website, there are five key things you should look for:
1. Search engine optimisation
What sets certain platforms apart are the other functionalities which improve upon the basic ability to add, edit and manage web pages. The best CMS' are built with search engines and website visitors in mind and allow you to optimise your web pages, landing pages, blogs and other website content so that it can be found online. Ideally, you want a CMS solution that will not only allow you to optimise your content for SEO, but also track inbound links, organise your content, and optimise your content for different devices.
WordPress cannot deliver this level of functionality out of the box – and in order to optimise your content for search engines and improve the user experience, additional plugins are required.
2. Pre-built templates
While WordPress offers thousands of themes (website templates) – some available for free and some paid – most of them do not allow much customisation without editing the code. There are, of course, paid themes that include well-designed theme editors that make it easier to edit your web pages but, if you want to create new pages on the fly, this can be an arduous process. Furthermore, once you have edited the web page, you will not be able to see your changes without exiting the editor and loading up the web page in question.
When it comes to building new web pages for your website, you want an editor that enables you to create new pages in a true WYSIWYG (what-you-see-is-what-you-get) fashion, meaning you do not have to click out of the editing environment to see what the page will actually look like. In addition to this, you want a solution that can provide you with fully-customisable pre-built templates, allowing you to make on-page changes without any coding experience, as well as the ability to edit the page's code if you are a developer.
3. Analytics and tracking
What is the point of building your website and adding all these new web pages, landing pages, blogs and other content assets if you cannot track the performance of them and their contribution to your business' bottom line?
Of course, you can use Google Analytics for insight into how your WordPress website is performing – but what if you want to understand how your content is contributing to your wider marketing and sales activity? At the most, WordPress can only provide you with basic website reporting, i.e. page views and visitors, unless you install an analytics plugin.
The CMS you choose should be able to provide you with granular detail on how each web page is performing in relation to your marketing and sales activity. This means being able to see – at the least – how many leads, contacts and/or customers were generated as a result of your website's content. Further to this, you want to be able to break down that activity and attribute that activity to a specific source – maybe most of your website's leads arrived via paid social, or maybe email marketing, either way having this level of detail will enable you to understand how your prospects are engaging with your website.
4. Security and support
WordPress' security is an ongoing concern and in most cases, hacks are typically the result of human error – someone forgetting to update the WordPress platform or keep all patches and core plugins up to date.
With this considered, choose a CMS that pulls all your crucial functions together and updates them as a whole. Security for your website should not be a chore and it should come as part of your CMS' package.
Finally, if something goes wrong with your website and you need support, you will need to have a trained WordPress developer on hand to help you to troubleshoot issues, this certainly means having someone in-house or a support contract with a development house, as the majority of WordPress issues are dealt with through online forums and experience.
5. Integrations
As I have mentioned previously, if you market and sell products and services, your website must be seamlessly integrated into every aspect of your marketing and sales activity. Turning a WordPress website into a lead generation engine – a website which has all the marketing and sales tools you need to attract, convert and close customers – requires a lot of work.
Even with it set up to function in this manner, you then have a number of marketing and sales tools that are not natively designed to communicate with each other, making it difficult to get a holistic view of your activity.
In addition to this, what if you want to scale your website and include Marketing Automation and a CRM? WordPress might not support the platforms you want to use.
So instead of trying to force solutions together, why not choose a CMS that can facilitate the addition of native marketing and sales tools as and when you need them? Why not choose an all-in-one solution that provides your marketing and sales team with everything they need?
Ultimately, your approach to choosing the right CMS should be on the basis of supporting not only your website, but the rest of your marketing and sales activity. Your website needs to be fully equipped and on that basis, your CMS must be able to facilitate the addition of new tools to help it improve marketing and sales activity.
Tip #52: When it comes to choosing the right CMS, take the time to ask experts, read reviews and consult other users. Then – and only then – will you be able to make a more informed decision on what your website's CMS should be!
If you'd like to receive the latest 'All that PR & Marketing Bollox...Explained!' blogs straight to your inbox every week, you can subscribe below: