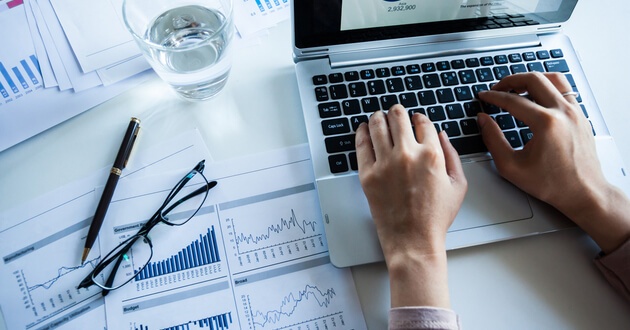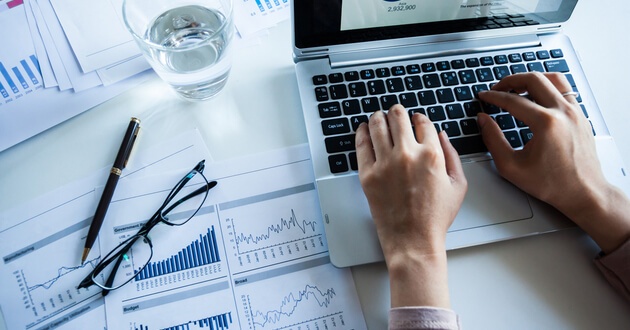 When I talk to marketing and sales directors who have embraced content marketing - or to put it another way, 'Inbound Marketing' - they are all enthusiastic about its value and success. But while they all have anecdotes of great success and tell me how it is good for their business, few have mastered the detail of clear return on investment (ROI) reporting. Of them, only a fraction are able to provide clear reports on the value of the content they use in their marketing and the value they get from their content marketing campaigns. Usually, they can tell me the number of page views, likes and shares the content has had, but often this is all that has been actively considered.
That is not to say that these metrics are unimportant, they serve a purpose and should be considered as a basic level of reporting, but it demonstrates that these marketing and sales directors have not taken the time to consider what metrics actually matter to the business.
For all businesses, ROI is the most important measure of successful marketing, precisely because it is tied directly to business revenue. According to the Content Marketing Institute, content marketing delivers three times more leads than paid search, small businesses with blogs get 126% more lead growth than those without, and content marketing can have conversion rates six times higher than other methods.
In a world where purchase decisions increasingly start with a Google search, having high-quality content is fundamentally essential to ensure your business can be found online, is able to engage with interested parties, and can generate sales enquiries.
Being in a position where you can clearly see the ROI of your content marketing activity – down to the individual pieces of content that have driven the most conversions – will enable you to create more quality content around the topics your audience are interested in. With the tools that exist today, this is entirely achievable for your business; you just need to ensure you are measuring your campaigns thoroughly.
Where do you start with measuring content marketing ROI?
According to the Content Marketing Institute's annual content marketing survey for the UK, 38% of respondents said that it was: "not clear what an effective content marketing program looked like".
Often, this inability to measure ROI comes down to not agreeing in advance on what your key performance indicators (KPIs) should be and a lack of sophisticated analytics.
So, first and foremost, agree on your goals. What do you want to achieve with your content marketing? It's easy to state broad goals but you need to break them down into measurable campaign objectives that are tied to growing business revenue. For example, X times more leads - knowing your conversion rates - Y times more new customers and then, knowing the value of a new customer acquisition, Z times more revenue.
Following this, you need the tools to monitor activity on your website and capture data. Your C-Level execs will want sales and revenue metrics above all, so you will need to have web analytics in place, a CRM database (of course), and something which will provide tracking of user behaviour and interaction across the website and through the sales cycle – that's probably a marketing automation platform.
If you can get yourself into a position where you can readily track page views, form submissions, email response rates, new contacts generated as a result of your content and how many of those contacts then become customers, you will be able to clearly demonstrate content marketing ROI
(That explanation in itself explains why so few marketing and sales directors have this is place already!)
Tracking your content marketing activity
From a lead and revenue generation perspective, you will appreciate that the metrics to track are different. We are principally focused on conversions (form submissions), new contacts, and customers generated.
From an agency perspective, our team use HubSpot to monitor and track the ROI of our content marketing, but there are many other products that will help in a similar fashion; Pardot, Marketo and Eloqua are the most popular competitors in this space.
Please see the images below.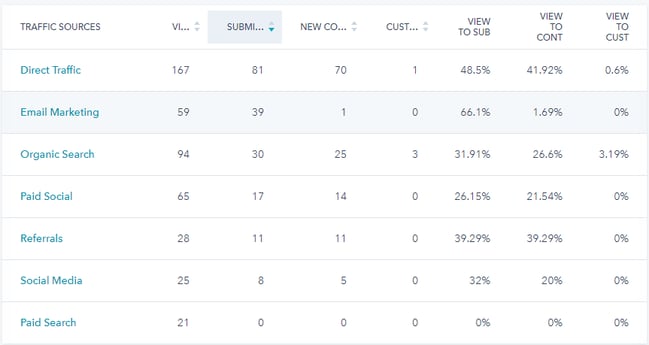 These images are pulled directly from one of our content assets hosted on HubSpot. The terminology used at each stage of the sales cycle will differ from business to business, but with this information we have a clear understanding of what channels drive the most lead generation activity. This provides us with a straightforward overview of how the content asset is performing. It took us very little time to compile this (as we are set-up to measure and manage at this level) and we can click into each piece of data for more information, including who converted on the web page and whether or not they became a customer.
The investment in time to get to this level of reporting is not insignificant but the returns from that investment are clear reporting on all digital marketing campaigns forever more.
Beyond this, we can go into further detail with attribution reports. These reports enable us to analyse the performance of content in greater detail and see the number of times a website visitor has viewed a content asset before converting. With attribution reporting, we can easily determine which piece(s) of content contributed to a lead becoming a customer on our website and through what channel they first arrived – be it organic search, direct traffic, email marketing, paid social, referral, or social media.
Having this kind of detail is tremendously beneficial for any business. If we know what kinds of content generate the most interest and ROI for our business, as well as which channels drive the most conversion activity, we can focus our efforts and refine our content marketing campaigns.
And if we know how much it costs us to create a campaign and a piece of content around it, publish it and promote it, as well as the amount of revenue we generate per customer, we can clearly state the ROI of any content marketing campaign.

How much did it cost and how much time did you spend on the campaign?
Whether or not you create your content in-house or outsource it, you need to take into account how long you spent on creating that content, publishing it and promoting it against how many leads and sales opportunities it generated for your business.
In order to calculate the ROI of your content marketing activity, we use the following formula:



(N.B. excludes in-house salaries but includes content writers and time/cost of social promotion)
You calculate the total revenue generated from the campaign and divide this by all your costs (including everything from creating the content to promoting it).
N.B. we take all in-house marketing salaries as fixed costs and only add in external costs.
For example, using the above formula if you generate £100,000 revenue from your content marketing campaign and it cost you £20,000 to produce that campaign, you divide your total campaign revenue by your total campaign cost (as shown below).

The result is then 5.0. To make your ROI a percentage, you then multiply 5.0 by 100.
In this example.
= 5.0 x 100 = 500% ROI
The calculation is itself quite simple. Usually, the difficult bit is assessing all of your costs down to the fine detail of what you are paying out to all your suppliers. Once you have achieved it once, this calculation can become routine. The benefits to the marketing team are unsurprisingly enormous! Once you have achieved the first calculation, then successfully argued its validity with your Marketing Director or CMO or CEO, he or she will love it! (This may take one or two recalculations and involvement of the FD or CFO for full verification! Don't be put off, this is the buy-in that you need!)
This is often the first time they (the C-suite) have seen a clear calculation of the mathematical validity of the marketing function – suddenly your CMO has the vehicle to ask for more budget and argue it as a necessity with a clear financial benefit, not just because this book, or course, or Council, or advisor, says that it should be X% of revenue!

Tip #51: Measuring the ROI of your content marketing activity is achievable. With the tools that exist today, there is every reason to be able to do it. Empower your marketing and sales teams with the tools they need to assess the performance of the content marketing campaigns that they produce – and understand what it is that their audience wants to see. This kind of insight is invaluable and will enable your marketing team to show its true value!


If you'd like to receive the latest 'All that PR & Marketing Bollox...Explained!' blogs straight to your inbox every week, you can subscribe below: