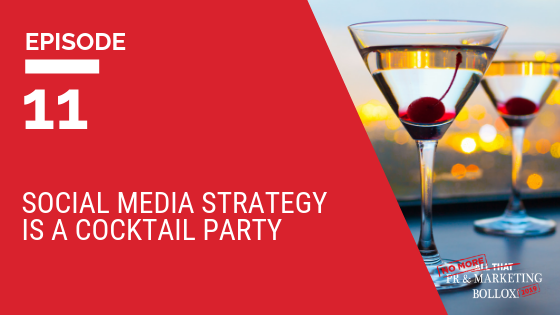 In this week's video, the author and curator, Bob Dearsley, explains the importance of social media, as well as why businesses should take the 'cocktail party' approach when engaging with potential prospects, customers and other interested parties.

Social media is essential to media messaging amplification
If you haven't noticed by reading this blog or just by being a citizen of the 21st century, the way we communicate has irrevocably changed. There are very few successful brands, companies, public figures or organizations that don't actively use social media and social media marketing to get out their message.
Put simply, in the current media and business climate, social media is one of the most important channels of distribution You absolutely don't have the choice to not use it anymore; it is required if you want to stay relevant and be successful. Whether your industry is tech, business, or consumer goods, there's a truth about social media in business that goes like this: it doesn't matter what you say about your brand, it matters what your customers and clients say about your brand. If you're not participating in the online conversation, you're missing out.

A lesson from Twitter
If you still don't believe me, just consider this: Twitter started 13 years ago on 21st March 2006. No one knew about it, no one used it and most people thought it was silly nonsense for the next 5 years!
Today Twitter is used globally as a communications medium by most prime ministers, government departments and Presidents (maybe we won't dwell on that). Even the Duke and Duchess of Cambridge used it to announce the birth of the latest addition to the Royal family!
It's also incredibly potent from a B2B perspective as well. According to Hootsuite, 75% of B2B companies market on Twitter and 85% of small and medium-sized businesses (SMBs) say providing customer service there is essential.
And that's just Twitter! What about LinkedIn, YouTube, Facebook etc.
Still think social media is silly nonsense?

Take the 'cocktail party' approach
Indeed, there are a bevy of metaphors for what social media is in the business sense and here I'm going to borrow one from marketing author and blogger David Meerman Scott. If the internet is a city, social media are the cocktail parties happening at various venues around it. In his very excellent and I would say, highly recommended, book, The New Rules of Marketing & PR, he writes:
"Viewing the Web as a sprawling city with social media as the cocktail parties helps to make sense of the best ways for marketers to use the tools of social media. How do you act in such a situation?
Would you go into a large gathering filled with a few acquaintances and tons of people you do not know and shout "BUY MY PRODUCT"?
Would you go into a cocktail party and ask every single person you meet for a business card before you agree to speak with them?
Would you listen more than you spoke?
Would you be helpful, providing valuable information to people with no expectation of something tangible in return?
Would you try to meet every single person or do you have a few great conversations?
Or would you avoid the social interaction of cocktail parties all together because you are uncomfortable in such situations?"
Just watch my video below to find out how you should approach social media in order to grow your networks and run the risk of generating new business.

Cocktail parties can sometimes be uncomfortable and socialising at them can feel like an effort at times, but they are an unavoidable part of doing business and networking. You should think of social media as the same. Better yet, you should learn how to enjoy social media and integrate a social media strategy into everything you do as a business, it's the way we amplify messages and media coverage out to a wider audience. If you see it as a chore, your followers in your networks will be able to tell.

Closing tip: Think of social media as a cocktail party—an engaging, reciprocal, and necessary part of networking, growing your contact base, and 'running the risk' of engaging with people and doing more business.
When you are promoting your media messages via social media, it's important to link back to your website so that the media and your prospects can find out more about you. To find out more about how your website meets your prospects before you do, click here.