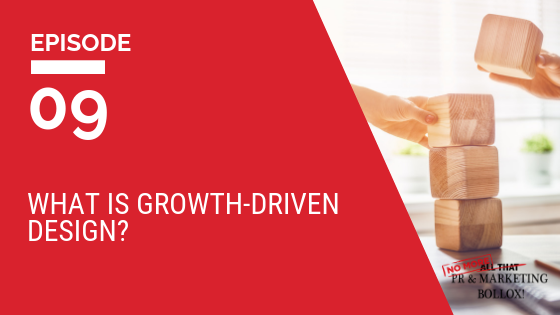 In this week's video and blog, the author and curator of No More PR & Marketing Bollox, Bob Dearsley, explains why businesses need to utilise Growth-Driven Design for any website build and development.
Your website is your most important asset and the nucleus of all your marketing activities. In the era of the internet and information overload, it is the first location at which your prospects arrive to obtain more quality information.
And on that basis, there needs to be an appreciation of the fact that your website meets your prospects before you do – and that introduction is absolutely vital to the development of your relationship with them.
If your website is failing to capture the attention of these potential opportunities due to: a poor look and feel, lack of quality information, slow loading page elements or less than relevant content, then a website redesign may be the only answer.
Unfortunately, the way in which most organisations approach redesigning and building their new website is usually painful and expensive, and prolongs the life of the very thing that has become business limiting!
Typically, with all this considered, people reach a point at which they are so frustrated with their existing website and how it's functioning, that they decide that there is nothing more they can do, and that they need to completely redesign the existing site.
A conventional or 'traditional' approach to website redesign would mean locking your site in the unsatisfactory state that it is in – and agreeing to leave it in that condition for a considerable period of time whilst it gets rewritten, redesigned and rebuilt.
And so, website redesign plans are drawn up, designs are reviewed, user and customer feedback is drawn upon and a new website design is eventually agreed upon. From there, the entire website goes into a process of being rewritten, reviewed, checked and tested.
However, by the time all these elements have been addressed, considered and rectified, it would not be at all unusual for six, nine or even twelve months to have elapsed from the original date of project initiation. As priorities get in the way and deadlines slip – your website redesign project often does not get the attention it so desperately needs. And, all of this time, the 'unsatisfactory' website - that you are increasingly ashamed of - that you continue to show to your prospects and the outside world has continued to be 'unsatisfactory' – bringing you little or no new business and giving plenty of interested parties the wrong idea about your company.
So how can you avoid this website 'purdah' and avoid locking yourself into a state of long-term website dissatisfaction? The answer is something called: Growth-Driven Design (GDD).
But what is Growth-Driven Design?
The fundamental benefit of Growth-Driven Web Design is simple – you'll have a website that grows as you do. It's all about developing a website infrastructure which is orientated around continuous improvement over time - not the static shop window you had previously.
Check out my video below for a rather in-depth explanation of what Growth-Driven Design is and how it can be applied to your business' website development.

In today's world, it's completely unrealistic to think you will ever have a 'finished' or 'complete' website. You must consider your website as a living structure that is continuously changing, being built upon, and enhanced. As you augment your site with content, products and services, and refine it through data insights, page optimisation and customer targeting, it becomes more effective.
With a Growth-Driven Design approach, you start from the point of MVP – that is, your 'minimum viable product', and identify where the high value pages are on your website - those that deliver the majority of your traffic.
The idea is to build the smallest, practical - but nevertheless acceptable - website in the shortest possible time. One that looks great, has all the latest up-to-date information about you and will grow in increments over time, with you making continuous additions and adjustments based on the data that you receive about the performance of the site. You'll utilise all your website data – to help you to develop insights and a better understanding of the performance of the site, so you can make more informed decisions as you go forward.
All of this helps you to generate more leads via your website. So, if you've tried everything else, sort out your website!
However, you need to appreciate that with a Growth-Driven Design approach, you will assess your website for high-value traffic delivering pages and Pareto's Law will usually apply, meaning that you should be able to launch with only 20% of your website pages and still retain 80% of your traffic.
As you progress, you'll agree to add a percentage of new pages on a monthly or quarterly basis, using the data you've gathered to make smarter objective-driven decisions on new page content and requirements.
Now, what would have taken up to a year with a traditional website re-design and cost one large lump sum, can now be feasibly done within 13 weeks or less. And, if you are using an agency to build it, the cost can be spread evenly on a monthly basis.
As a result, your leadership team is not monopolised for an extended period of time whilst they argue over the website's development and your subject matter experts are no longer overwhelmed by rewriting and updating the entirety of the website pages in one go.
With 'Growth-Driven Design', you spread the workload over 13 weeks by building a plan that provides you with scheduled deliverables that you adhere to. In fact, by doing this, you remove the stress in developing your new site by establishing a larger framework to work within and using data-driven insights to inform your website development as you go.
And, perhaps most importantly, you have a brand-new, fresh, good-looking website which not only functions as you want it to, but also as your visitors want it to – and it's entirely feasible to have this website in 13 weeks from your point of commitment.
Closing tip: Use your website traffic data to build your new website around the pages that bring you traffic and search engine new pages to continuously build more traffic.
Choose Growth Driven Design for a new website that delivers more, in the shortest possible time, with the least amount of hassle.
If you missed last week's video on corporate messaging and Ronseal, you can catch up here.