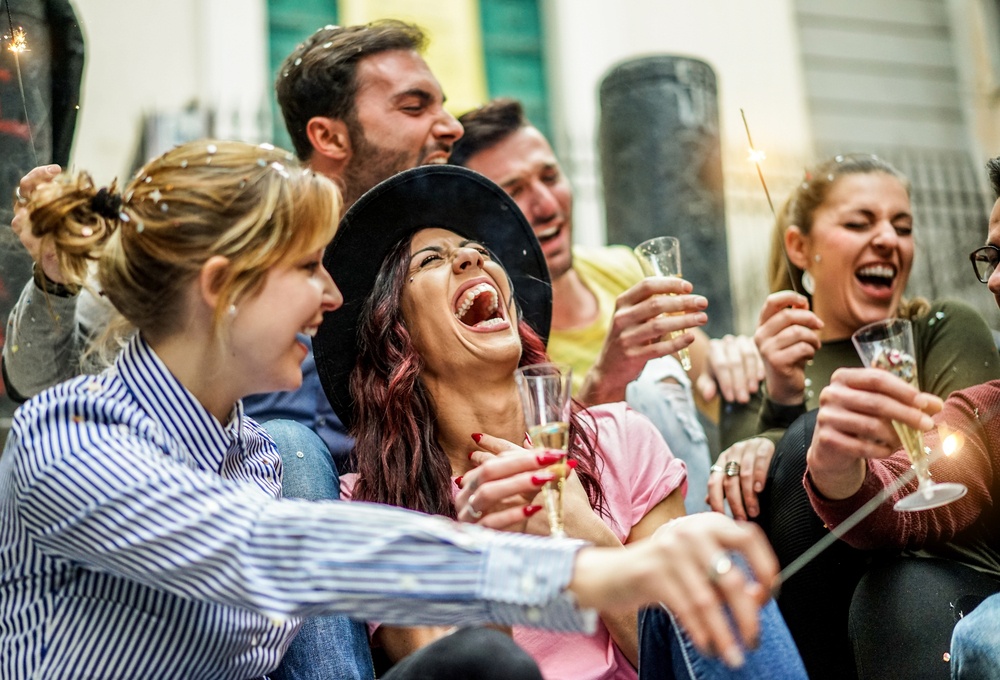 For many, the end of the year is an opportunity to relax and celebrate the start of the new year in style. It's a time for prosecco and fireworks; a time for resolutions and bonding with family. For marketers, however, the start of – and the time leading up to – the new year is a chance to start thinking about new year marketing campaigns and how we can improve our activities in the year ahead.
While everyone else is shutting up shop mid-December, marketers and salespeople are thinking about what can be done to deliver more value to prospects, leads and customers over winter and into the new year.
Last year, we sung and recorded revised version of the Twelve Days of Christmas. We all got together to make a Christmas video for our clients, wishing them a merry Christmas, a happy new year and a prosperous 2018. This year, we have done something similar. The point is that while everyone is away from the office – at home and relaxing – an unexpected gift, offer or thank you will remind your prospects, leads and customers that you do care and are grateful for their support. The result of this is that they will keep you in mind and perhaps engage with you in the new year and show their thanks.
It need not be much. A little marketing activity over the winter season and into the new year can help to generate more interest in your business and provide more value to your prospects and customers. You may lack the marketing budget of a big business, but you can use simple methods to reach new and existing customers. As 2017 draws to a close, however, this advice will help you to prepare your marketing campaign(s) in 2018, well in advance!
1. Think about your new year marketing campaign strategy
How can you promote your business by using one of the largest holidays of the year? Businesses across the world tap into the major events throughout the year and use them as a means to promote their products, services and offers. Black Monday, Cyber Friday, Easter, Thanksgiving, Halloween, Christmas – all of these holiday events are utilised by businesses to drive interest and generate revenue, and New Year's Eve, New Year's Day and the first month of the year are no different. Think about what your business can do around the end of the year and the new year to promote its products and services and to engage with people in advance of the end of the year – and into 2018.
2. Create New Year-themed offers, content and emails
To promote your new year marketing campaign, you will need offers orientated around the 'new year' theme. It might be landing page on your website that advertises your products and services at a discounted new year rate.
Alternatively, you could create content around New Year's resolutions; for example, weekly blog posts on how to be a better marketer in 2018. Each blog post could include a resolution or tip that marketers should keep in mind if they are to succeed in 2018. To further bolster the impact of this promotional activity, you could create a dedicated landing page to notify any website visitors that you are promoting helpful, New Year's resolution-themed content over the first month of 2018.
3. Prepare your social media strategy and schedule in advance
Social media becomes increasingly busy with people searching for gifts for New Year's Eve, New Year's Day and the new year. People look for promotions and deals, and businesses try to stand out and attract customers with discounts on products and services. Big brands and businesses typically dominate the social media space before, during and after New Year's Eve and New Year's Day, but rather than trying to compete with these brands, you should try to emulate them and build your own social media campaigns.
The kind of social media that stands out over New Year's Eve, New Year's Day and into 2018, is the type that connects with the audience – your social media activity should tap into the spirit of the new year. Think about New Year-themed deals on your products and services that you can advertise. Share images of your employees talking about their resolutions and expectations for the new year, make videos about what the new year will mean for your business, create gift lists in case people need inspiration on what to buy for New Year's Eve and New Year's Day. These are just a few things your business can do to reach out to its audience over New Year's and into 2018.
Lastly, as the festive period is incredibly busy, you may not have time to manage all of your social media activity. Therefore, you should try to have your New Year's social and marketing material prepared in advance and then use social media scheduling tools to ensure that it all goes out at the right time. Make sure you include a relevant New Year's Eve/Day or new year's #hashtag, if anyone wants to get involved.
If you need some social media posting tips, please check out this blog!
4. Make your social profiles and website new year-themed
Change your social media profile and/or website ahead of New Year's Eve and New Year's Day, but make sure your changes are consistent with what your business does. Updating your website for the end of the year and advertising it on your updated social media is a great way to get exposure for your business without hard selling to your customers.
5. Give back to your customers
The end of the year and the new year are the perfect opportunity for you to reach out to your customers and show that you appreciate their support and to remind them that you look forward to working with them in 2018. Perhaps you could organise a New Year's Eve or New Year's Day event for your local customers? This would give them an opportunity to socialise with you and your colleagues in person and perhaps tell you what they like or what they would like to see next year. With this information in hand, you can alter your promotion strategy for the next year.
You may not have the budget for a fully-fledged new year marketing campaign, but it does not take much to give back to your customers and to remind them that you care. Dedicating a little time to the activities above will put your business in a strong position for the end of 2017 – and for the start of 2018.
Tip #43: Thinking about marketing and sales strategies now, rather than at the start of 2018 will enable your business to get ahead of the competition at the start of the new year. Marketing activity through the Christmas period, New Year's Eve, New Year's Day and into the first month of 2018, will help you to attract more interested parties to your website, generate more sales enquiries, and remind your customers that you care.
If you'd like to receive the latest 'All that PR & Marketing Bollox...Explained!' blogs straight to your inbox every week, you can subscribe below: